Training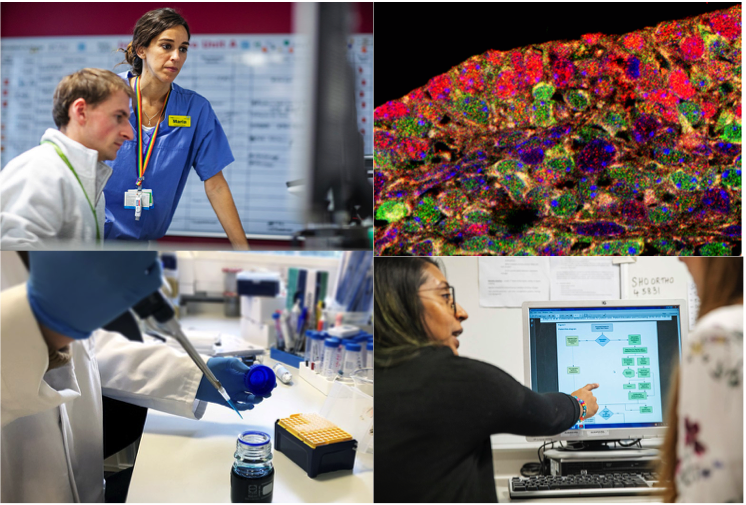 Training in Research Relevant to Underrepresented Populations and Diseases
This will be delivered in 2-monthly rolling workshop sessions over three years (18 workshops altogether: Twelve workshops will be delivered by experienced multiprofessional clinical researchers from QMUL/City who work with different underrepresented populations and diseases. These interactive workshops will provide successful examples of engagement and discuss contentious issues. Six workshops will focus on Community and Patient engagement training. Sessions will be facilitated with patient group leaders, community groups such as Social Action for Health (see letter of support), PPI experts and City's Centre for Mental Health Research.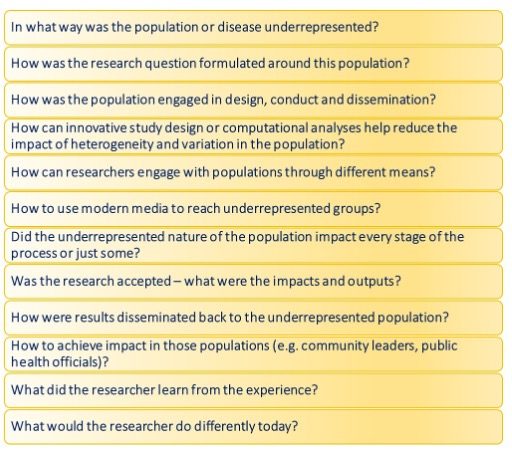 Career Development Programme
We have partnered with Bayes Business School to develop an innovative and bespoke Career Development Programme for all Fellows in this DTP. City Business School has an international reputation for delivering high-quality executive level training in the Health Sector, and our fellows will have access to this unique opportunity through this Partnership. The Programme will be delivered in small groups (each intake) in five full-day sessions over the first year. Sessions will focus on 'Personal Leadership', 'How Human Factors Impact Research Culture and Environment', 'Leading Innovation in Teams and Collaborations', 'Managing Personal and Professional Change' and 'Running a Successful Research Group'. Action learning groups will be formed during training, which then will continue over the 3-year PhD for ongoing peer-support.
General research training
Fellows will complete modules in statistical methods including research design, thematic and content analysis, systematic reviewing, patient and public involvement (PPI), Good Clinical Practice and ethics, information governance, health and safety, community working, presentation and writing skills, impact, dissemination and engagement methods including social media and podcasts and communicating with the public and policy makers. These will be selected from QM Academy and City Doctoral College course elements. General training relevant to underrepresented populations and diseases will be given by DTP Faculty: engagement and feedback, specialist funding sources and writing successful grant and fellowship applications.
Project-specific training
Together with supervisors, fellows will use Training Needs Analysis Tool of the Vitae Researcher Development Framework to produce a training plan, which can be adapted as required. Project-specific training might include elements of research design, specific technologies or analytical methods and will be delivered through internal QMUL/City courses or externally as directed by the supervisors.
Fellows will attend Centre/Institute seminar series and have opportunities to join seminars, cross-disciplinary symposia and attend congresses. Fellows will present at Centre/Institute meetings and to wider audiences including Graduate Studies Days, Integrated Academic Trainees' Day, QMUL's showcase William Harvey Day and the DTP Annual Symposium.
Workshop date
Topic
Speaker
How to register
17th November 2022
Researcher engagement with stakeholders
Prof Adrian Martineau: Engagement with stakeholders in COVID-19 research
Prof Angela Harden: Collaborating with stakeholders for intervention research addressing health inequalities: who, when and how?
19th January 2023
Underrepresented and how that informs research design and methods
Dr Jessica Jones Nielsen: Turning the TIDE(S): Challenges and successes in building up a diverse and inclusive research culture
Prof Graham Foster: Diversity is strength – how global working has accelerated progress in curing hepatitis C
18th May 2023
Dissemination and impact strategies
Ronan McCloskey: Folklore, science and grabbing your audience
Prof Gavin Giovannoni: Social media and research: why public and patient engagement is important?
Click here
13th June 2023
What is underrepresented and why is it important
Prof Sir Michael Marmot: Social Justice and Health Equity
Social Action for Health: Community Research in East London
Click here
20th July 2023
Research culture
Faith Uwadiae: Wellcome Trust
Hannah Bentley: Research culture at QMUL
Aaliyah Shah: Decolonising research
TBA
21st September 2023
Developing as a reflective researcher
Dr Jessie Cooper
Dr Ruth Dobson
Reflection and reflexivity in research practice
TBA